"At  Aura we provide a full range of non-surgical aesthetic procedures, including anti-wrinkle treatment, anti-ageing and skin perfection. Holistic medical led consultation will help frame a bespoke treatment plan."
– Jane Bradley Aesthetic Nurse Practitioner RGN,  NISP, TVn BSc
Our Medical led aesthetic clinic and Resident Nurse Independent Prescriber Jane Bradley offer the most effective and safe treatments, alongside a five-star service producing natural-looking, subtle results.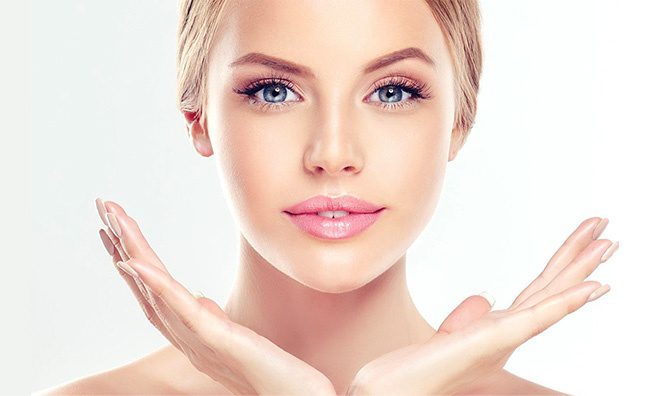 Jane Bradley Aesthetic Nurse Practitioner RGN,  NISP, TVn BSc has 37 years of experience as a Registered Nurse and Aesthetic Practitioner, her previous positions include a Head and Neck Clinical Nurse specialist and manager of a maxillofacial unit, where she was awarded "Positive about Patients Award" in 19xx for starting a Head and Neck Cancer Support Group. Jane has diverse and broad surgical skills working in the operating theatre as part of the facial reconstructive team.
As part of a drive to improve patient care and safety Jane has held senior NHS Board positions as a Director of Nursing and Deputy Director for Patient Safety and Quality Improvement and was acknowledged regionally and nationally for supporting and teaching doctors in training.
As an army-trained nurse, Jane has had the opportunity to work in many UK hospitals as well as hospitals in Germany and New Zealand.
Jane is a Nurse Independent and Supplementary Prescriber. This provides the same prescribing rights, within her speciality, as a doctor, and therefore can offer patients access to a full range of prescribed treatments and complete care, before during, and after treatment.
With a specialist interest is skin integrity and facial rejuvenation, one of Jane's attributes is her skill to put clients at ease and complete a holistic consultation, whilst being realistic about expectations and outcomes.
With a career that has focussed on continually striving to improve patient outcomes Jane's results are proven and not promised.
Anti-wrinkle injections and dermal fillers are largely unregulated in the UK. While there is an independent body that acts as a watchdog over those administering treatment, there are still many injectors out there who are sub-standard and not professionally registered or qualified. Choosing the right practitioner is crucial.  Not only do you need to feel comfortable with your practitioner on a personal level, but you also need to make sure that you feel confident in their abilities, skills, and knowledge.
We provide treatments for both men and women in our peaceful, relaxing clinic and we'd love to welcome you.
Book a free consultation to see what Aura can do for you and take the first steps towards a more youthful appearance.
Botulinum Toxin A is a prescription-only medicine which can only be obtained following medical assessment by a qualified prescriber. Detailed understanding of the anatomy of facial muscles is required to achieve the best results and needs to be combined with careful individual assessment. So the first step is to book a consultation with our Resident Clinical Nurse Specialist to review your lines/wrinkles and other concerns, who will recommend the most appropriate treatment plan
Botulinum toxin type A is an effective and now well-established treatment for lines and wrinkles, the most commonly treated areas are: frown lines between the eyebrows, crows feet (smile lines), forehead lines, nasal lines (bunny lines)
This treatment can also be used to: soften lines around the mouth, chin and neck, to elevate mouth corners (down turned mouth), to improve jawline definition, eyebrow shaping, improvement in lack of symmetry
Aura Aesthetics offers the industry's top evidenced based Botulinum Toxin A brands and products for safe and effective anti-ageing treatments: Benefits of treatment will last usually for 3 or 4 months. Repeated treatments at 3-4 monthly intervals will give optimum results over the long term – both in terms of preventing wrinkle formation but also by allowing remodelling of skin to occur so that any fixed creases will improve over time.
Quite commonly after a series of treatments the effects last longer, so quite a number of our patients only need treatment twice a year.
DERMAL FILLERS/HYALURONIC ACID
Dermal Fillers are injections of gel into the skin that can lift and erase lines and wrinkles. They can be used to contour the face and also to create volume where it is needed most.
They have changed enormously over the last decade and can be tailored to your specific needs, from the finest fillers for dehydrated skin/the smallest of lines, to more lifting and reshaping treatments.
We only ever use bio-degradable, non-permanent fillers. Most are made of Hyaluronic Acid, a natural component of your skin, which also helps to rejuvenate collagen and elastin and create a more youthful appearance.
Fillers are a minimally invasive procedure that can achieve a soft and natural look. They can be used in the lips to restore shape and definition, give volume to the face, erase wrinkles, shape contours, treat hands and neck and give skin a more hydrated dewy appearance.
Results are visible immediately and usually last around 6-9 months.
Aura Aesthetics use fillers from the leading brands –Each has its own characteristics, which we discuss at the consultation, so that whether it is a subtle "freshen up", or a more robust result you require at Aura Aesthetics we prescribe the best product to achieve the best result.
Multiple syringes

Discounted
One of the highest concentrations of hyaluronic acid on the market, Profhilo not only boosts and hydrates the skin, but also remodels ageing and sagging tissue. The most common areas of treatment include the face and neck and can also be used for the décolletage, hands, arms, knees and abdomen area where it would effectively treat skin laxity. The treatment is suitable for men and women as well as offering skin benefits for patients of all ages.
CHEMICAL EXFOLIATION WITH Enerpeel®
Medical Peels prescribed and delivered by doctors and nurses delivers deeper fibre remodelling, to reduce lines and wrinkles and plump up the skin, for a much more sustained youthful look. Enerpeel ® provides us with range of several options. The differing depths of peel can be selected according to the conditions/issues being tackled and the desired results.
The Enerpeel ® range is attractive as the treatments offer clients the benefits of a deeper peel without the usual side-effects. The chemical agents in the peel penetrate the skin before they are activated, a process which minimises side-effects in the outer layer of the skin (epidermis) while maximising the benefit to the deeper layers. After treatment, the skin will look younger and fresher.
Using our in depth knowledge of skin and the capabilities of our favourite chemical exfoliants our team of practitioners will create the perfect combination most appropriate for you.
We usually recommend a course of three treatments, but your skin will look and feel healthier even after just one treatment.
This is a sister product to Profhilo and is great for foreheads and around the eyes and mouth – any dynamic areas – and good alternative for clients that don't want toxin or filler.
Viscoderm hydrobooster

£240
Proven procedure for the treatment to eliminate varicose and  spider veins and is considered the treatment of choice for smaller veins. Sclerotherapy involves injecting a solution directly into the vein. After treatment the veins tend to fade away within a few weeks, although occasionally it may take a month or more to see the full results.
Several treatments may be required.
Sclerotherapy 1st treatment

from £150

Sclerotherapy 2nd treatment

from £110
We offer full 30 minute aesthetic consultations for every treatment we do, from in-clinic treatments to home care products and anti-ageing and problematic skin advice.
We will review of your health and skin history and create Aesthetic treatment plan and time line.
We might need you to provide  a proof of ID, this is required to complete prescription only medication. In some circumstances £50.00 deposit migh be required to book a full no obligation consultation. This payment is returned on attendance for the consultation appointment or can be fully redeemed against the cost of treatments.